Outdoor Lighting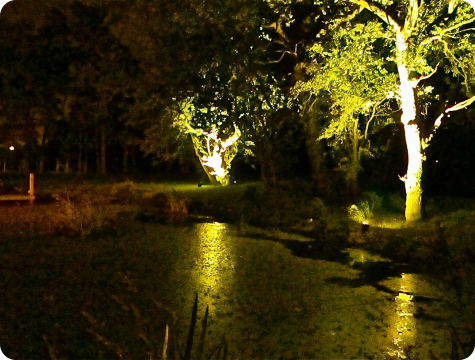 "In late 2009 we moved into our new family home and it was a logical decision, as I had experienced the professionalism of Thornfield Electrical to use them to install new light fittings both internally and to the driveway outside. Since then we have added extra patio space and Dave advised, supplied and fitted all the additional wiring and fittings whilst co-ordinating with the builder. We were impressed by the positive attitude and any questions we had where answered in plain English and the installation was explained step by step. It's refreshing to find a professional and courteous company who you can trust. I would recommend Thornfield Electrical to anyone".
(G. Curtis, Prenton, Wirral)
"I have used Thornfield Electrical on several occasions and have always found them to be reliable and hard-working. The quality of their work is of a high standard and I wouldn't hesitate in recommending them to others".
(T. McElvogue, Chorlton-by-Backford)
"Thornfield Electrical installed a number of lighting circuits in my garden, power to the shed and spotlight's to the rear of my house. I found their knowledge and help in finding the best solutions to my requirements extremely impressive including being able to control my various outdoor sockets via my IPhone. All Thornfield's employee's who worked at my home were extremely polite, reliable and tidy in their work. All and in particular Dave were extremely keen to provide a good service and in my own opinion certainly delivered. I will undoubtedly use the services of Thornfield Electrical when needed in the future and would recommend their services to others".
(L. Bonner, Higher Bebington)
"Having had several electrical firms over the past six years trying, without success to light up the stepped pathway to our front door, I can at last claim that your company have come up with the perfect installation. All previous installations had been fitted at step level which left dangerous areas of dark shadow. You suggested we raised the lighting to hand-rail level which has not only dispersed all shadows but has the added bonus of looking very attractive. Well done David, not only for good work carried out efficiently but also for the care and consideration shown throughout".
(A & D Craig, Heswall, Wirral)